Best Places to Visit in Asia – the largest continent on Earth, has a wide variety of travel locations that draw tourists from all over the world. The tourism sector in Asia is incredibly diverse and well-designed with a rich fusion of natural, historical, and cultural beauty. A few of Asia's vibrant metropolises with cutting-edge architecture, cutting-edge technology, and vibrant urban cultures are Dubai, Tokyo, Beijing, Hong Kong, and Singapore. In the meantime, calmer places like the Maldives and Bhutan's serene countryside offer a getaway from the world's crowded pace of life.
Asia features a staggering variety of famous landmarks that document millennia of history and tradition, from China's towering Great Wall to India's beautiful Taj Mahal. Sri Lanka offers stunning coastlines and verdant tea plantations, the gorgeous rice terraces of Bali, Japan charms with its exquisite fusion of modernity and ancient culture. the dark temples of Angkor Wat in Cambodia, and the amazing karst landforms of Halong Bay in Vietnam are all easy to access to tourists.
Top 10 Places to Visit in Asia
1. The Burj Khalifa – Dubai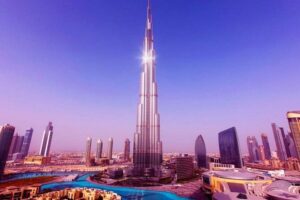 The Burj Khalifa: the tallest structure in the world and is located in Dubai, United Arab Emirates. building process started in 2004, and on January 4, 2010, it was officially opened. This famous skyscraper, which towers to a dizzying height of 828 metres (2,717 ft), dominates the city's skyline and has come symbolised Dubai's vision and innovation.
2. The Great Wall of China – China
The Great Wall of China: a UNESCO World Heritage Site and one of the World's New Seven Wonders. The most popular and historically significant marvels of architecture in the world. It is the longest wall ever built by humans on earth, stretching 21,196 km (13,171 miles) across northern China. It was built almost 2,000 years ago.
3. Halong Bay – Vietnam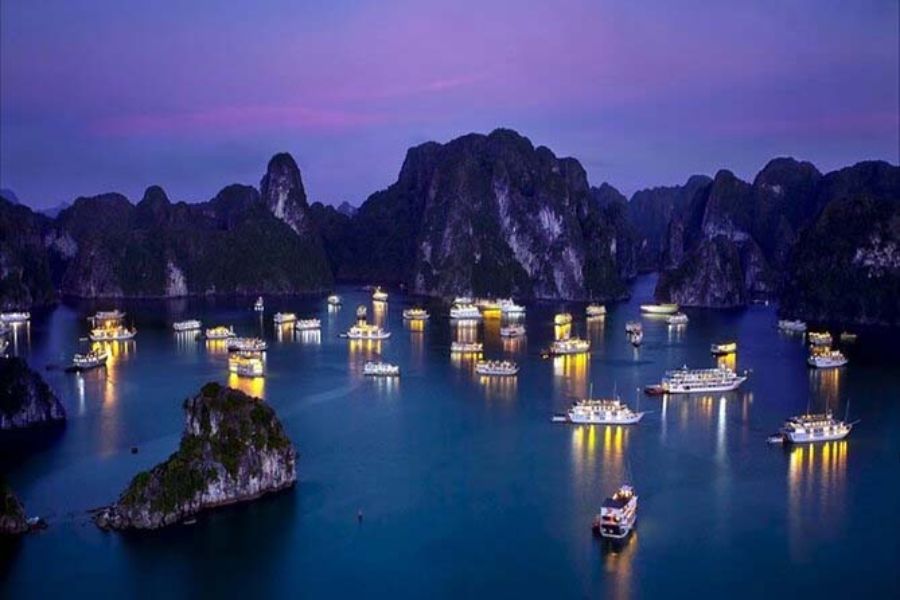 Halong Bay: a UNESCO World Heritage Site, is a stunning natural beauty in Vietnam. It is famous for its emerald waters and thousands of limestone karsts and islets that rise dramatically from the sea, Halong Bay is 1,553 square km in size and is filled with 1,600 limestone islands. Cruising is the best way to experience the beauty of Halong Bay.
4. Taj Mahal – India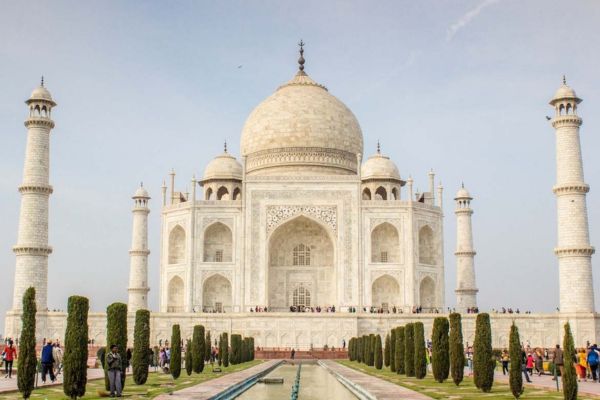 Taj Mahal: a UNESCO World Heritage Site and one of the World's New Seven Wonders. A beautiful marble mausoleum in Agra, India. Shah Jahan, the Mughal emperor, had it constructed in 1632 and finished it in 1648 in honour of his wife Mumtaz Mahal.
5. Petra or Rose City – Jordan
Petra: also known as the "Rose City," is a world-renowned archaeological site in Jordan's south. Because of its historical and architectural significance, it has been designated as a UNESCO World Heritage Site. Petra was the capital of the Nabatean Kingdom, a thriving commercial culture that flourished from the fourth century BCE to the first century CE.
6. Bali – Indonesia
Bali: a beautiful island in Indonesia, known for its stunning landscapes, rich culture, and Lesser Sunda Islands. The island is known for its beautiful beaches with crystal-clear waters, such as Kuta Beach, and it is the best place for surfing, snorkelling, scuba diving, and beachside relaxation.
7. Railay Beach – Thailand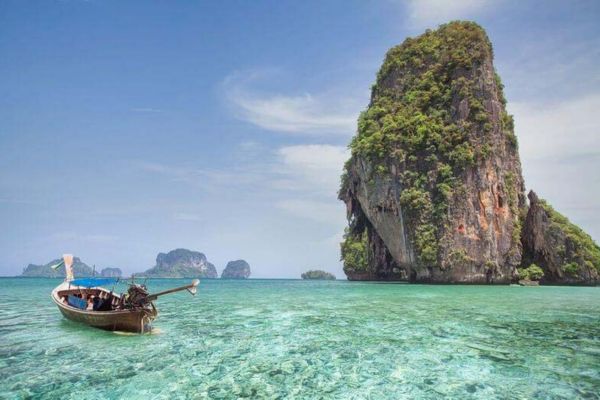 Railay Beach in Thailand is a spectacular resort noted for its stunning environment, sandstone rock faces, and crystal-clear waves. It's a little peninsula on the Andaman Shore. Tourist can reach here only by boat from either Krabi Town or Ao Nang both of which have regular boat services to the peninsula. Cave Temples, Water Activities, Rock Climbing are some of the other attractions here.
8. Marina Bay Sands – Singapore
Marina Bay Sands in Singapore, one of the city's most prominent monuments and has come to symbolize the opulence and sophistication of Singapore. The famous Infinity Pool is one of its main attractions which covers the rooftop of the SkyPark. One of Singapore's two interconnected casinos is located in Marina Bay Sands. The ArtScience Museum is a magnificent structure is another attraction here shaped like a lotus flower.
9. Himeji Castle – Japan
Himeji Castle in Japan, a UNESCO World Heritage Site. A beautiful and well-preserved feudal castle in Himeji, it is a six-story tower with amazing panoramic views of the surrounding city and environment from its top floor. It is recognized as one of the country's most magnificent and significant castles, Tourists are able to ascend to the highest floors of the castle to feel the mediaeval ambiance and admire the attention to detail of the wooden building.
10. Maafushi Bikini Beach  – Maldives
Maafushi Bikini Beach in Maldives an exclusive spot where tourists are allowed to take benefit of the sun and sea with wearing swimsuit. Maldives are a popular vacation spot for holidaymakers solely due to its beautiful beaches and pure waters. Maafushi Bikini Beach is a designated area where tourists can enjoy the sun and sea in their swimwear. The beach is the perfect spot for sunbathing, swimming, and other water activities because of its crystal-clear blue waters and lush sandy shorelines.