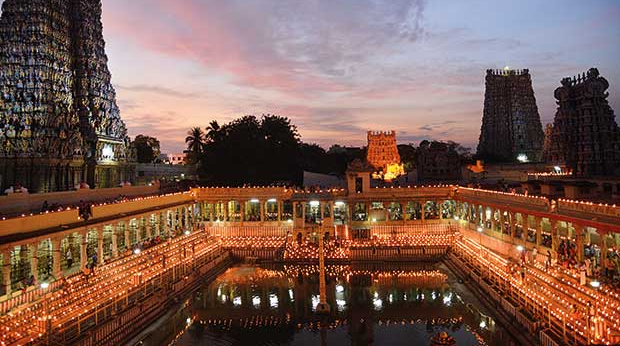 Meenakshi Amman Temple is one of the oldest and most important temples in India. Located in the city of Madurai Tamilnadu, This temple also known as Minakshi-Sundareshwara Temple. It is dedicated to Lord Shiva (in the form of Sundareswarar or Beautiful Lord) and his consort, Goddess Parvati (in the form of Meenakshi).
The mythological and historical significance of this temple says that it is believed that Lord Shiva assumed the form of Sundareswarar and married to Parvati Mata (Meenakshi) at the site where the temple is currently located. According to the legend, the marriage of the goddess Meenakshi to Lord Shiva actually took place in this temple and still celebrated every summer with great enthusiasm and gaiety. The temple complex houses have 14 magnificent Gopurams or towers including two golden Gopurams for the main deities, that are elaborately sculptured and painted.
During the 14th century C.E, Malik Kafur, a commander of Delhi Sultanate, led his army into most parts of southern India and looted many temples including the famed Meenakshi Temple. Valuables, such as gold, silver, and precious gems were taken to Delhi. Since temples in those days had an abundance of valuables, most of the temples were destroyed and were left in ruins. When the Vijayanagar Empire took over Madurai after defeating the Muslim Sultanate, the temple was rebuilt and reopened.
Meenakshi Amman Temple was further expanded during the late 16th century and early 17th century by Vishwanatha Nayakar, a king of the Nayaka dynasty. According to researchers, while rebuilding the temple, the rulers of the Nayaka dynasty followed the architectural style of 'Silpa Shastras. "Silpa Shastras" is a set of architectural laws found in the ancient texts. the temple attracts more than a million devotees. Despite many people visiting it every day, the temple is well-maintained and was named the Best Swachh Iconic Place (cleanest iconic place) in India.
How to reach:-
The nearest Railway station is Madurai (2 km)
The nearest Airport is Madurai (11 km)
The nearest Bus station is Madurai
Published: Niresh Kumar Balan