Padmanabhaswamy Temple is a Hindu temple dedicated to Lord Vishnu in Thiruvananthapuram, Kerala, India. It is one of India's 108 sacred Vishnu temples. The temple is well-known for its spectacular architecture, which combines Kerala and Dravidian styles. It has a gopura (gateway tower) from the 16th century, a 1000-pillared hall, and a massive image of Vishnu reclining on the serpent ananta.
The shrine is only open to Hindus, the temple celebrates a variety of rites and festivals. and there are severe clothing restrictions for entry. Men must wear dhoti or (Mundu) with no upper clothing, and Ladies must wear a sari or salwar kameez.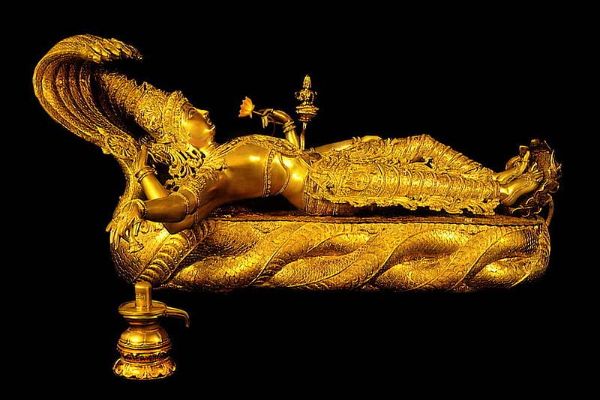 Treasure of Padmanabhaswamy Temple
The Temple's treasure is a collection of priceless goods like as gold, jewels, statues, coins, and other valuable stuff. It is kept in six underground vaults designated as A, B, C, D, E, and F. However, due to religious and legal considerations, Vault B, which is supposed to hold the most exotic and antique artefacts, remains closed.
A golden throne studded with hundreds of diamonds and emeralds, a golden coconut shell filled with precious stones, a golden idol of Mahavishnu weighing 30 kg, a golden staff with a diamond-studded crown, a golden sheaf weighing 500 kg, a golden elephant statue weighing 560 kg, and many other items are among the treasure.
The Travancore royal family, who are the temple's custodians, believe that unlocking vault B will bring a curse on the state and the country. They further allege that vault B is a secret compartment where the deity's personal things are kept, rather than a part of the temple's treasury.
To reach the Padmanabhaswamy Temple, Thiruvananthapuram airport is about 6 km from the airport. Railway station is about 1 km, and the bust station just about 0.5 km. The temple is open from 3:30 am to 12:00 pm and from 5:00 pm to 7:20 pm on all days except Tuesday.