Coronavirus live updates: India confirmed 20,471 cases (15,589 active cases) today, after 1,486 fresh cases emerged in the country in the last 24 hours, the death toll rose to 652, while 3,960 patients who have been discharged/cured or migrated from the country from COVID-19 disease, according to the latest Ministry of Health and Family Welfare data.
Maharashtra is the highest number of cases with 5221 in the country, followed by Gujarat 2,272, Delhi 2,156, Rajasthan 1,810, Tamil Nadu 1,596, Madhya Pradesh 1,592 and in Uttar Pradesh 1,412.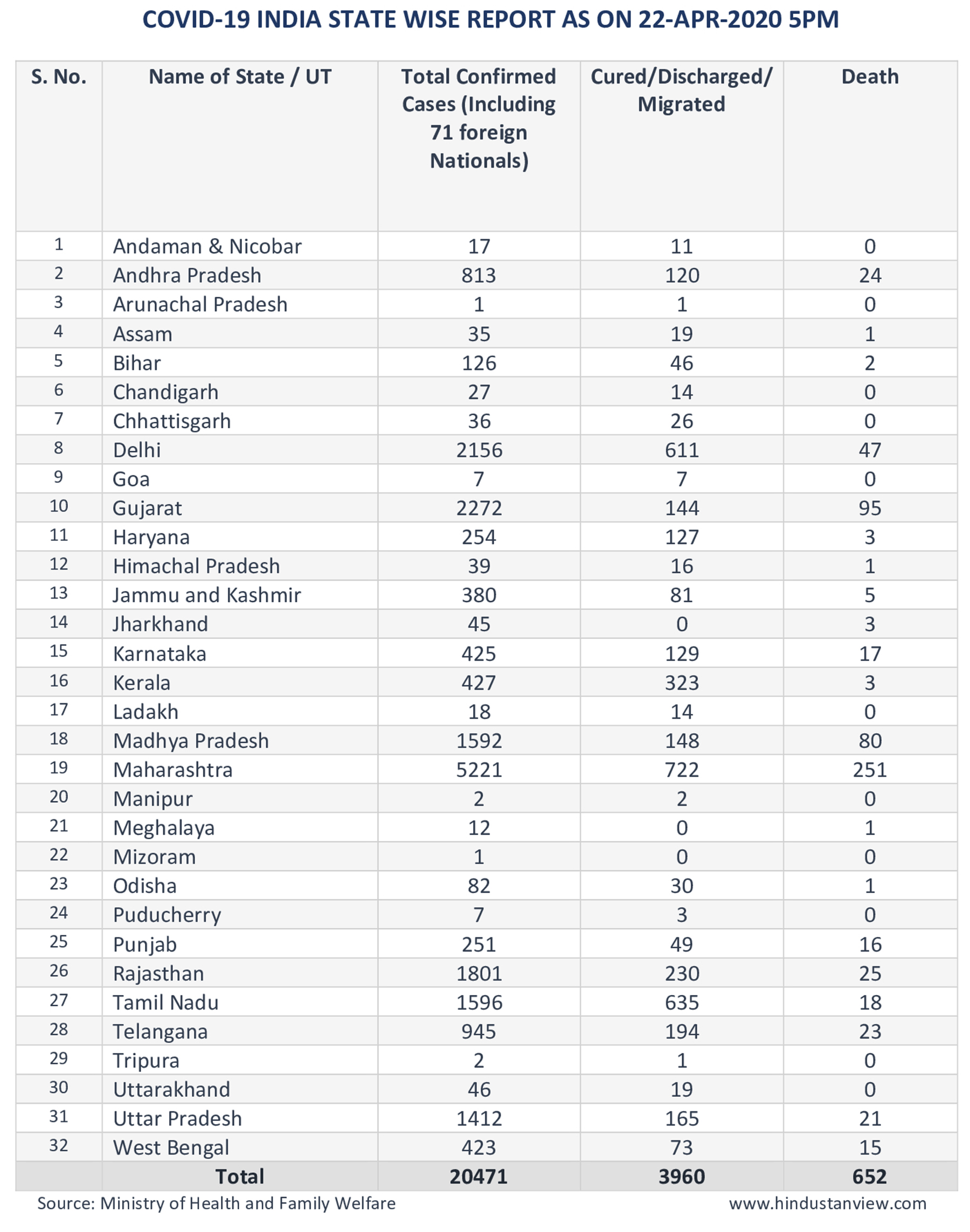 Coronavirus live updates – The Indian Council of Medical Research (ICMR) released a list of 87 private laboratories that are set up in 15 states to conduct Coronavirus tests. Maharashtra has the highest number of COVID-19 testing labs at 20, Telangana 12, Delhi 11, Tamil Nadu 11, Haryana 7, West Bengal 6, Karnataka 5, Gujarat 4, and 2 each in Kerala, Madhya Pradesh, Punjab, Rajasthan, and Uttar Pradesh and 1 each in Uttarakhand and Odisha.
The Indian Medical Association (IMA) called off the White Alert protest of doctors after the association was assured by Union Home Minister Amit Shah that they would be provided security by the government. The Government has brought an ordinance today to control the violence across the country against Doctors and health workers carry imprisonment from 6 months to 7 years if anyone found guilty.
Globally the Coronavirus pandemic has sickened more than 2.5 million people and leftover 172,000 fatalities worldwide due to the COVID-19 deadly virus, according to data compiled by Johns Hopkins University. Coronavirus pandemic has also reached into other major aspects of the daily life of everyone, including the global economy and the environment. Meanwhile, the United Nations is warning global hunger could double and this pandemic may be putting 265 million people at risk around the world as a result of the coronavirus pandemic.
Published: Hindustan View 22/04/2020