Coronavirus News: The total number of confirmed COVID-19 cases in India stands at 5,194. the death toll rose to 149,  indicating 25 new deaths in 12 hours, The active cases stand at 4,643, While 402 people have recovered/migrated from the pandemic in the country so far.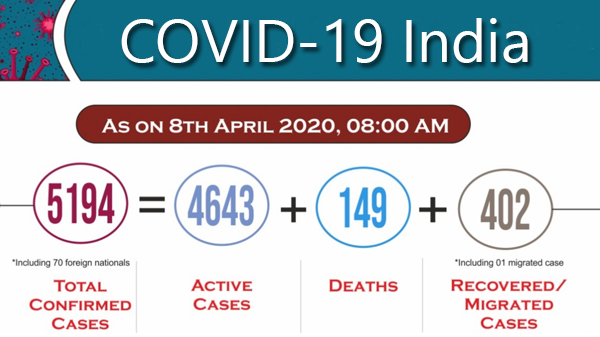 Prime Minister Narendra Modi on Wednesday interacted with floor leaders of various parties, including opposition in Parliament to discuss the situation arising out of the spread of coronavirus. As the cases continue to rise in India as well as around the world, the research for coronavirus vaccine and COVID-19 medicine is underway. Several states to request the government to extend the 21-day lockdown in the country.
The maximum coronavirus cases have been reported from Maharashtra so far, apart from Maharashtra, Tamil Nadu and Delhi are two of the most affected states in the country. Sources in the Union government said a decision on the lockdown could be taken by the weekend.
The Chinese city Wuhan travel ban lifted after 76 days shutdown where the coronavirus first emerged late last year, has been lifted with the first trains leaving the city early on Wednesday morning. The novel coronavirus has infected more than 1.43 million people and killed over 82,000 worldwide.
Published: Hindustan View 08/04/2020