Coronavirus Pandemic Updates: As 12 new cases of the novel coronavirus reported today in Maharashtra. The total case count in the state reached 215. Five from Pune, three from Mumbai, two from Nagpur, one each from Nashik and Kolhapur.
Today's reports of the Ministry of Health and Family Welfare said that the total number of Coronavirus cases in India rises to 1071 (including 942 active cases, 99 cured and 29 deaths). But as per the WHO (World Health Organization) report globally, the COVID-19 numbers have surpassed 634,000, and the death toll is close to 30,000.
The Supreme Court is today scheduled to hear a petition regarding the large-scale exodus of migrant workers. As the 21 days, the nationwide lockdown has led to troubles for migrant workers who set out on foot for their native villages, prompting the Centre to direct states to seal borders.
Cabinet Secretary Rajiv Gauba denied reports in the media which speculated that the government could extend the 21-days lockdown, the Press Information Bureau (PIB) of the Ministry of Information and Broadcasting tweeted.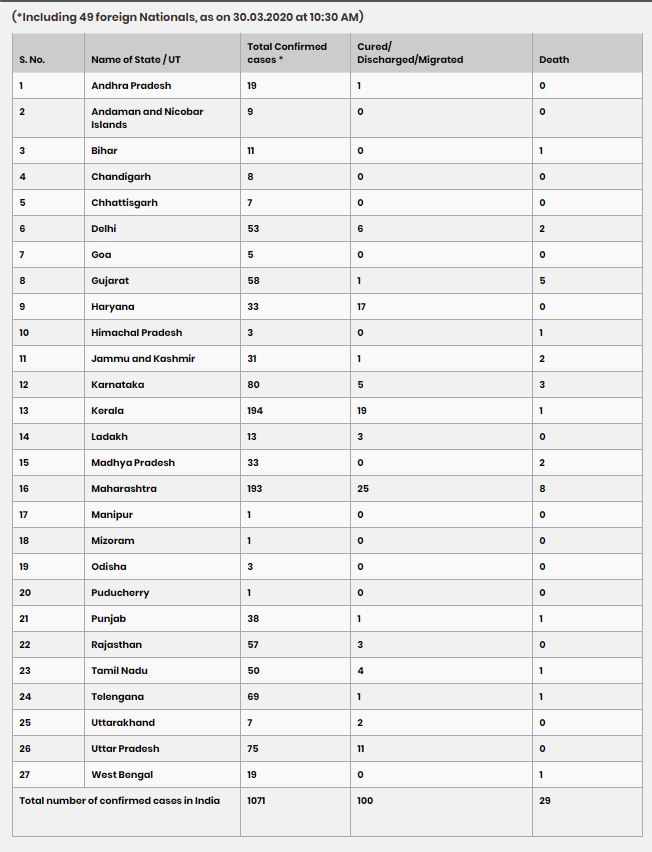 Published: Hindustan View 30/03/2020