Covid-19 India Updates: India's total number of infections on Tuesday reach 70,755 including the 22,454 people who have been treated and discharged so far, Active cases in India is 46,008 while 2,293 people have lost their lives due to this deadly virus so far, and 1 case migrated according to the Health Ministry report. Maharashtra remains the worst affected state 832 people lost their lives from 22,171 cases followed by Gujarat 493 deaths 8194 cases.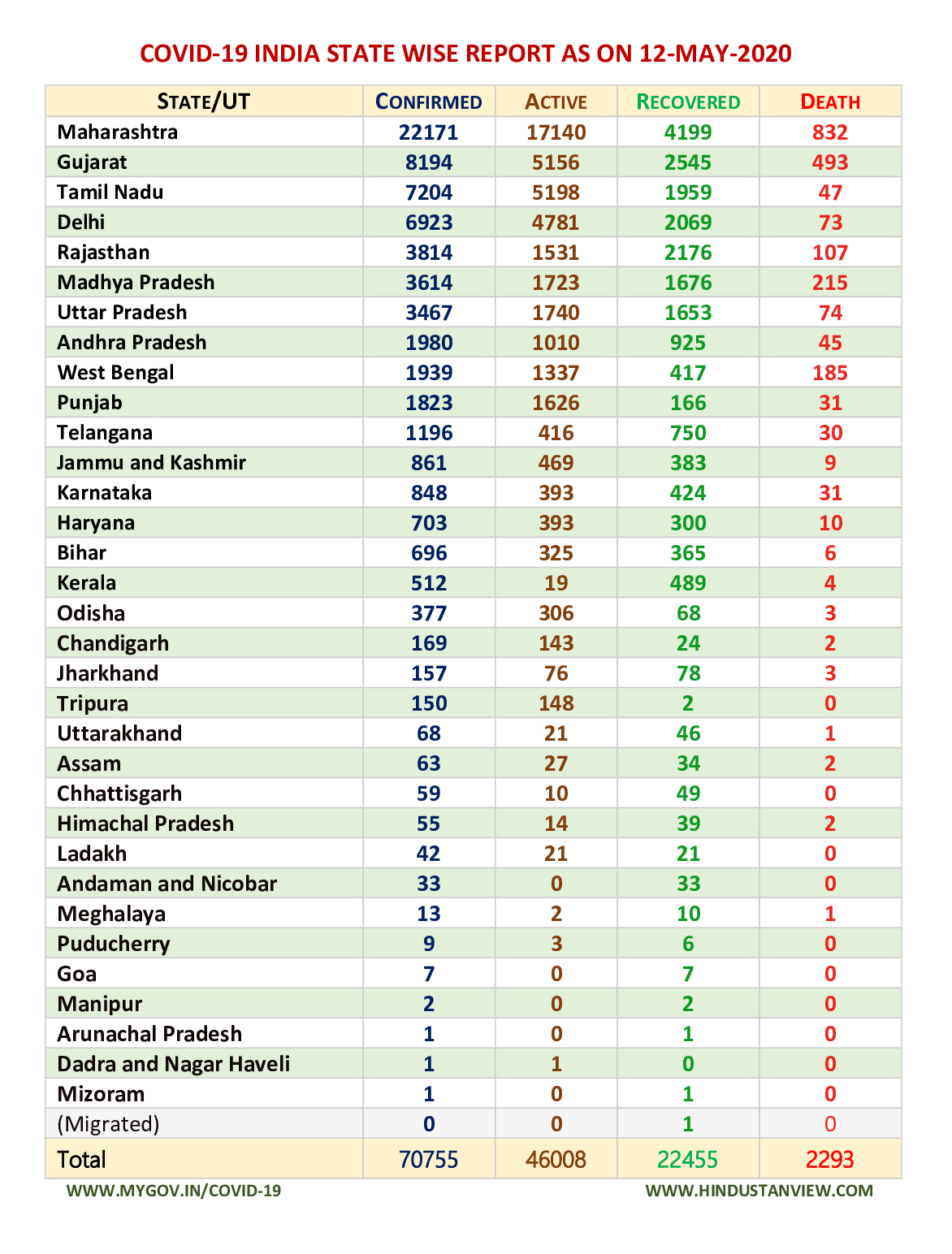 Prime Minister Narendra Modi in his fifth meeting on Monday with the Chief Ministers said the new way of life would be on the principle of "Jan Se Lekar Jag Tak", from an individual to the whole of humanity. The road ahead should be focused on reducing the spread of Covid-19 and ensuring that all precautions were taken by people, including social distancing norms, by observing 'Do Gaj Doori' Lockdown in India may extend beyond May 17, the curfew may remain in red zones, but more relaxations will be announced for areas under orange, green zones.
Meanwhile, the Indian Railway is starting its services from Tuesday (12/05/2020) will run to full capacity, it sold tickets worth ₹10 crores to 54,000 passengers within one hour of opening the portal. After almost two months nationwide lockdown due to the coronavirus pandemic scare, The Indian railway has allotted 30 special trains as it resumes operations with special trains beginning operation from New Delhi connecting Mumbai Central, Ahmedabad, Dibrugarh, Agartala, Howrah, Patna, Bilaspur, Bengaluru, Chennai, Thiruvananthapuram, Ranchi, Bhubaneswar, Secunderabad, Madgaon & Jammu Tawi on Tuesday. Covid-19 India Updates
Globally, there are 4,256,538 coronavirus infected cases so far, with deaths at 287,353. According to CoronaTracker, the United States continues to be the worst-affected country with 81,795 fatalities and 1,385,834 cases, followed by United Kingdom (32,065 deaths and 223,060 cases) and Italy (30,739 deaths and 219,814 cases).
Published: Hindustan View 12/05/2020